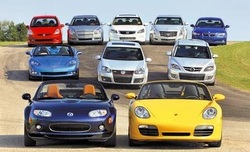 We've all done it. Oh we may not tell anybody we did it, but we did it. So then we hang something on our rearview mirror or put a sticker on our bumper so we know which car belongs to us. Then there is the occasional time even that doesn't work, like a friend of mine the other night. We were at the same conference. It had been a long day understandably. It was dark. They were in an unfamiliar parking lot. The driver walked over to the car opened the door and was about to get in when she noticed plastic covering the back seat. She asked her passenger did she have anything to do with it and that's when she realized she was in the wrong car. How embarrassing, especially when the parking attendant dimes you out. It would have been nice to just back up and close the door and walk away. Yep, we've all done it.

Some people look like a Christian. They can be found in the same locations as Christians. You may even mistake them for actually being a Christian but upon a closer examination, the inside of them reveals they are not even close to being a Christian. As T.D. Jakes says, "They got junk in the trunk."

1 Samuel 16:7 (NIV) "The LORD does not look at the things man looks at. Man looks at the outward appearance, but the LORD looks at the heart."

Today think about your life. What do others see when they look at your life? It may be time to do some house cleaning.