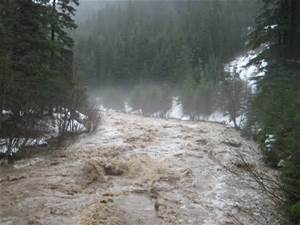 Too much of a good thing can be deadly. When we are not prepared for an overflow it can be dangerous. Abundance is not always a good thing. I think you have gotten my point by now. Our friends and perhaps even some of your family members have experienced this first hand. Many probably had gardens and even maybe prayed for rain but what they received over a few hours and even days was more than they ever dreamed of. Bottom line is we need to prepare for the abundance that is coming. We are all praying for our southern friends, taking needed items, going down to physically help and sending money. But what are we doing personally for the abundance of souls that are going to be saved in the last days?

See the churches and the Christians are not prepared for the abundance that is coming. In most churches we would probably run out of toilet paper before we ran out of chairs. Many would be upset they lost their parking places and still more would be upset someone was sitting in their chair. It can get real messy when their is an abundance that we are not prepared for. In most churches across America there is a shortage of volunteers for the nursery and children's church. With the abundance of souls to be saved in the last days there will come many children and right now we can't take care of the ones we have.

2 Corinthians 9:8 (NIV) "And God is able to bless you abundantly, so that in all things at all times, having all that you need, you will abound in every good work."

God is able to bless us but are we prepared for the blessing? Do you know what to do with more than you bargained for? Our state is dealing with a lot of cleanup due to the abundance of rain. Likewise I believe we will have a lot of clean up to do when the latter rain occurs.

Joel 2:23 (NIV) "Be glad, people of Zion, rejoice in the LORD your God, for he has given you the autumn rains because he is faithful. He sends you abundant showers, both autumn and spring rains, as before."

James 5:7-8 (KJV): Be patient therefore, brethern, unto the coming of the Lord. Behold, the husbandman waiteth for the precious fruit of the earth, and hath long patience for it, until he receive the early and latter rains.

I have heard that the storm that passed over southern West Virginia circled back and passed over West Virginia again and when it did, it stayed. We know that the Lord has visited the United States before. He has passed over and many revivals and great awakenings and salvation's have occurred. Many have been praying for another great visitation. May we all begin to prepare our hearts and churches for the latter rain and while we are praying for what we want to see, let's all pray for those who are and have experienced great loss and devastation to property and possessions as well as loved ones.

​