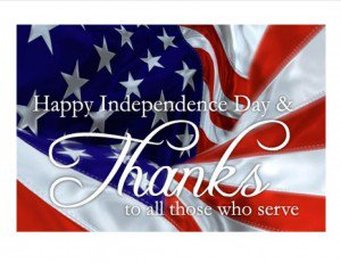 We celebrate American Independence Day on the Fourth of July every year. We think of July 4, 1776, as a day that represents the Declaration of Independence and the birth of the United States of America as an independent nation.

You can read more about this here:

https://www.constitutionfacts.com/us-declaration-of-independence/fourth-of-july/

We have men and women who fought for this right for us, let us remember them and pray for those in authority always as we celebrate this 4th of July weekend.

"First of all, then, I urge that petitions, prayers, requests, and thanksgivings be offered to God for all people; 2 for kings and all others who are in authority, that we may live a quiet and peaceful life with all reverence toward God and with proper conduct. 3 This is good and it pleases God our Savior," 1 Tim 2:1-3 (GNT)

I'll be back with you on Wednesday!

​