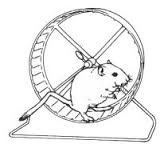 I don't know about you but sometimes I feel like a Gerbil. Come on. We wake up and hop on the wheel. Then when the day is done we hop into bed only to wake up and get back on the wheel. The Gerbil syndrome is worst when we are not in right relationship with our Creator. He makes life worth living. It is God that knows man best, after all He created him. God sets up laws for us to obey. Forgive and you shall be forgiven, pretty cut and dry. (Matthew 6:14) On the flip side, don't forgive and you are not forgiven. When Adam and Eve were in a state of sin they hid. Sin has torment. No sin-no torment. (1 John 4:18) It's tormenting to run the Gerbil wheel. When we are at peace we are at rest. So how do we find rest? We find rest when we find Him. How do we find Him? Seek Him.

Jeremiah 29:13 (NIV) "You will seek me and find me when you seek me with all your heart."

Your heart is the center of your emotions. Our Youth Pastor said, "Our heart is the Board Room where God does business with us". This is so true. God deals with our hearts because out of our heart flow the issues of life. (Proverbs 4:23) God did not design man to live the life of a Gerbil. God called us to live an abundant life. (John 10:10) It is the thief that comes to steal our life. The devil is that thief that wants to steal, kill and destroy.

Action step for the day: Get off the wheel and kneel. Allow God into the board room and begin to do business. Live the life God has for you and let the Gerbil run the wheel.